Demand for SEO Experts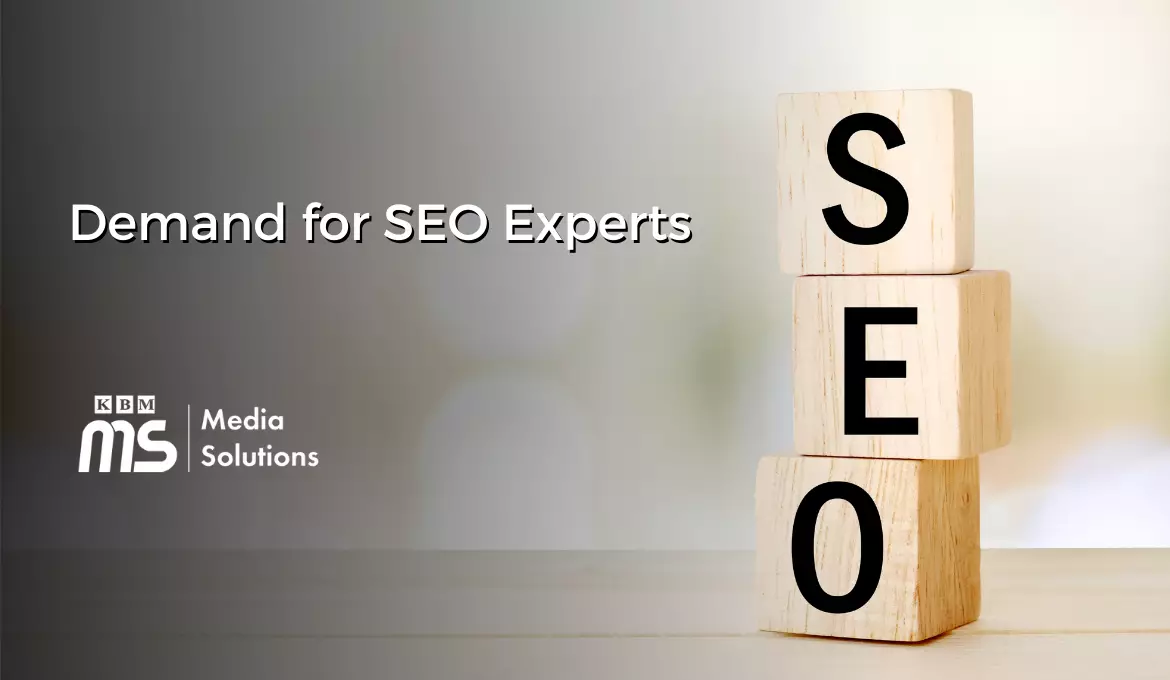 Posted on May 20, 2021
Ever wonder how Google rank different websites on its search engine, and why certain links are shown in the results page before others? It's all in the work of Search Engine Optimisation (SEO).
Google gained popularity around 20 years ago, however the emphasis on SEO has only been around recently. A group of experts found that there needed to be an algorithm in place to measure the prominence of different websites through the keywords that are being searched for and in accordance to which they needed to be ranked.
History of SEO
In the late 1990s, two Stanford graduates Larry Page and Sergey developed "Backrub", a search engine that was dependent on a mathematical algorithm. It determined the ranking of web pages according to the number of links and keywords that are being used.
Ever since, the number of websites increased and there needed to be a function that ranked these websites accordingly. The most prominent and user-related ones could show up first and so on. Millions of websites are then listed and maintained by search engines and backend servers that are responsible for generating results.
SEO developed significantly so much to the point where people working at Google themselves cannot explain how complex the SEO algorithm is. Google foresaw the opportunities that SEO had and started implementing it into their search engine becoming the most used search engine in the world within a short time, considering it's been just about a quarter of the century.
SEO as a profession
SEO targets different keyword searches such as text, video and image search. These algorithms are in-place in such a way that when an individual starts typing, the content in the search engines starts showing results based on historical or relative searches. These are stored into the database of the search engine.
SEO for websites has become so complex and challenging that search engines such as Google are in constant update and re-organising in its searches. All of this means that businesses require experts to help them stay relevant and visible with the help of SEO (Search engine Optimisation), which promote and rank their websites on result pages for better and organic reach.
SEO has been around for 2 decades, it's only recently that it has emerged as an evolving profession around the world. Businesses having websites and social media platforms require these experts to help them grow and achieve their strategic goals. Many universities now offer SEO/Digital marketing courses that pave a career path into SEO getting them certified.
It's not only a fruitful profession but it equips you with different sets of skills that involve:
Research
Analytics
Communication
Writing
Technical/Programming
Within a short space of time SEO has gained huge popularity. The specific search results through keywords has business owners rushing to create a digital presence for their brand. SEO can help grow the image of any organisation. Generating traffic to the website and ranking the page on top of the list is what a SEO marketer/expert can do. This has become crucial considering what the digital age has provided businesses. It's a need to strive on the internet to maintain an online presence and work for expansion.
A positive about starting SEO as a profession is that you don't necessarily need a qualification. What is more important is the experience and abilities you have. Marketing agencies look for candidates that generally have more experience. They want SEO experts that can help increase their websites ranking by getting them more traffic which induces them for more customers.
Businesses have started to invest into organic, customer-oriented marketing and data analytics. This means they can understand and provide for its customers via digital platforms. There are plenty of opportunities in SEO and digital marketing that individuals can go for.
Demand for SEO
SEO is an evolving career path which would require individuals to upskill themselves to be SEO experts in the field. The demand for SEO professionals has increased around the world due to the growth of digital awareness, technological advancements, online competition and the growing complexity of SEO. It's a good option for individuals that are interested in marketing, media, websites and content writing.
The use of SEO marketing will always remain an efficient way of customer acquisition and marketing. Organisations recognise the need for digital platforms and now they heavily invest in maintaining their digital presence. This creates an increased need for SEO professionals. Finally, SEO provides exciting career opportunities with a tremendous growth potential. Individuals that want to enter this career path need to equip themselves with multiple expertise, due to the developing learning process. One who has to constantly update their knowledge on trends like algorithms, keywords and link building.
To learn more about SEO, visit: https://www.kbmmediasolutions.com/search-engine-optimization-training.php