What is Facebook Marketing?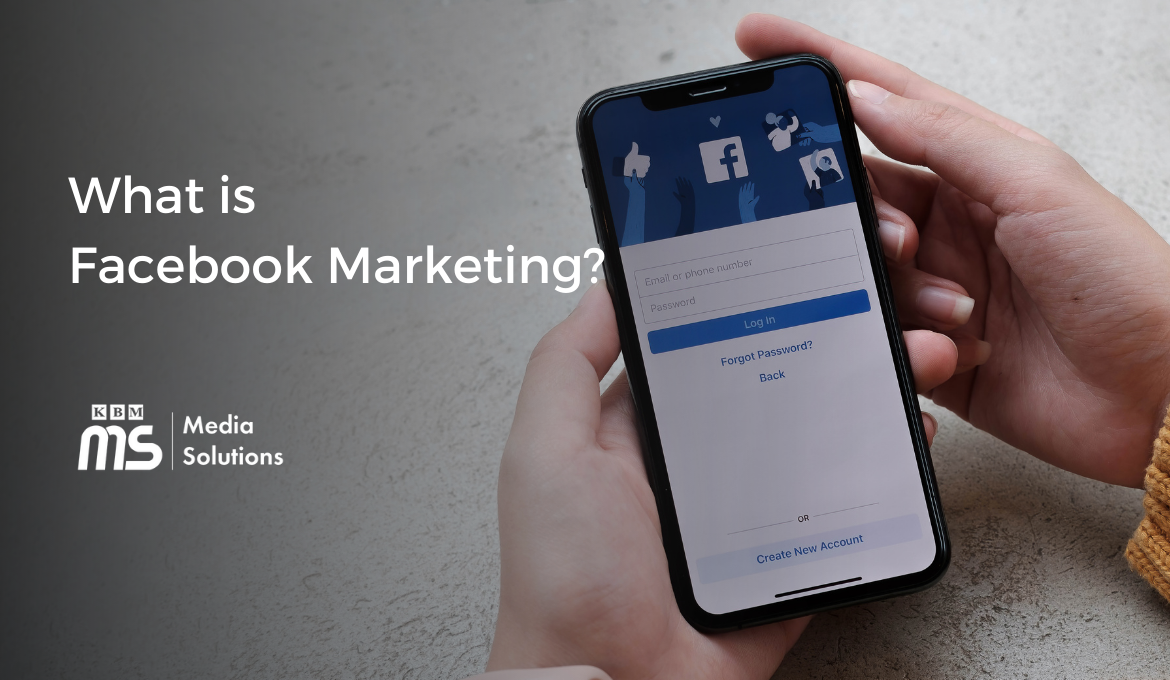 Posted on Aug 20, 2021
Facebook Marketing is simply known as marketing your brand on Facebook. Facebook Marketing falls under Social Media Marketing which caters brand promotion on social media networks including Instagram, Pinterest, LinkedIn and more. To find out how you can increase your brand by the use of digital presence visit www.kbmmediasolutions.com/blog/how-to-improve-your-digital-presence.php
Engaging with your audience on digital platforms is a good way to move forward with your digital strategies. But how do brands effectively engage with their customers? Through special offers, articles and videos.
Facebook is the leading social platform, reaching 59% of social media users. Source: Oberlo
Facebook Marketing is very vast, there are different ways of going about it. Included are:
Targeting through ads
Facebook jobs
Facebook online marketplace
Business branded groups
All these methods depend upon the nature of your audience. Which one would you choose for your brand? Usually brands go for targeted ads along with posting content on their pages and groups to increase visibility and presence. To learn about how you can run a successful social media campaign visit https://www.kbmmediasolutions.com/blog/how-to-run-successful-social-media-marketing-campaign.php
Who uses Facebook Marketing?
Having at least a billion of potential customers, every business is using Facebook. Businesses big or small, have 100 employees or just a handful of people, we can say there's a portion of your potential customers on Facebook.
Commonly Facebook marketing is used by:
Brands- Almost any sort of brand can be promoted on Facebook. Whether it's food, electronics, clothes or home goods. You can find almost every major brand on Facebook. Businesses work hard to convert their passive customers into active ones by engaging them through effective marketing.
Local businesses- Whether your business Is family owned or franchise based, Facebook pages are setup to promote your offerings and to sell to local customers. This is one way to stay in contact with your customers in your locality.
Personalities- Celebrities, authors, musicians and models are part of the Facebook community and they promote themselves on Facebook so that they can reach more audience, this helps them to grow their fans around the world and become well known.
Non-Profit organisations- Other organisations such as political groups, NGOs, welfare societies also leverage with the natural opportunities that Facebook marketing provides.
Facebook Marketing: Analytics
Facebook analytics is a good way to measure success of your Facebook Marketing strategy. Analytics allow digital marketers to determine whether their audience is interacting with their brand or not. Not only that, it enables them to find out how're their audience is discovering the brand and finally becoming valuable customers. To understand more about how to increase website traffic in analytics for social media visit https://www.kbmmediasolutions.com/blog/how-to-increase-website-traffic-through-social-media.php
This feature of Facebook allows its users to monitor and utilise data to revise and strengthen their Facebook Marketing strategies.
Facebook Marketing: Insight
Brand's page insight is another good feature, where marketers can monitor the performance of their posts individually. This helps them to evaluate their marketing efforts and direction. The key to Facebook page insights is to find out which posts are the audience interacting the most.
Apart from that, other things that can be analysed from insights are:
Engagement
Reach
Action taken by audience
Views, and more
Why use Facebook for Marketing?
It only makes sense to utilise Facebook for marketing your brand because of the number of people using the platform. Although there are different growing social platforms, Facebook is still used because of its simplicity and user-friendly interface. Not to forget, it's relationship with its users for so many years. To find out how Social Media evolved heavily follow https://www.kbmmediasolutions.com/blog/evolution-of-social-media.php
Some of reasons why use Facebook for marketing:
Facebook is the most popular social media platform in the world.
Advertising on Facebook is quite affordable for brands.
Facebook caters audience of all demographics, which makes it an ideal platform to apply your marketing efforts to reach a wide or brand specific audience.
Facebook analytics and insights allow you to measure your marketing efforts, which makes setting up a marketing strategy much easier.
Wide reach of Facebook ads is highly effective. When your target customers would see your ad, their friends would see the ad as well, which creates a double reach effect on your ad.
How can learning Facebook Marketing help you succeed?
Being an effective digital marketer and a Facebook expert requires to become trained at social media marketing. Trying to increase engagement and reach towards customers is the goal of any marketing strategy. Having both marketing and consumer knowledge, allows you to plan and implement an effective marketing campaign and strategy.
Students to become successful social media strategists, require excellent communication skills and a good marketing program. A marketing program that provides practical and real-time experience that develops student's skills in digital marketing and social media. There is array of skills in social media marketing that are taught and all of them are crucial in enhancing and providing foundation in learning, so that they can implement them on brands and organisations.
To learn more about Digital Marketing, visit: https://www.kbmmediasolutions.com/digital-marketing-training.php