How to Improve Your Digital Presence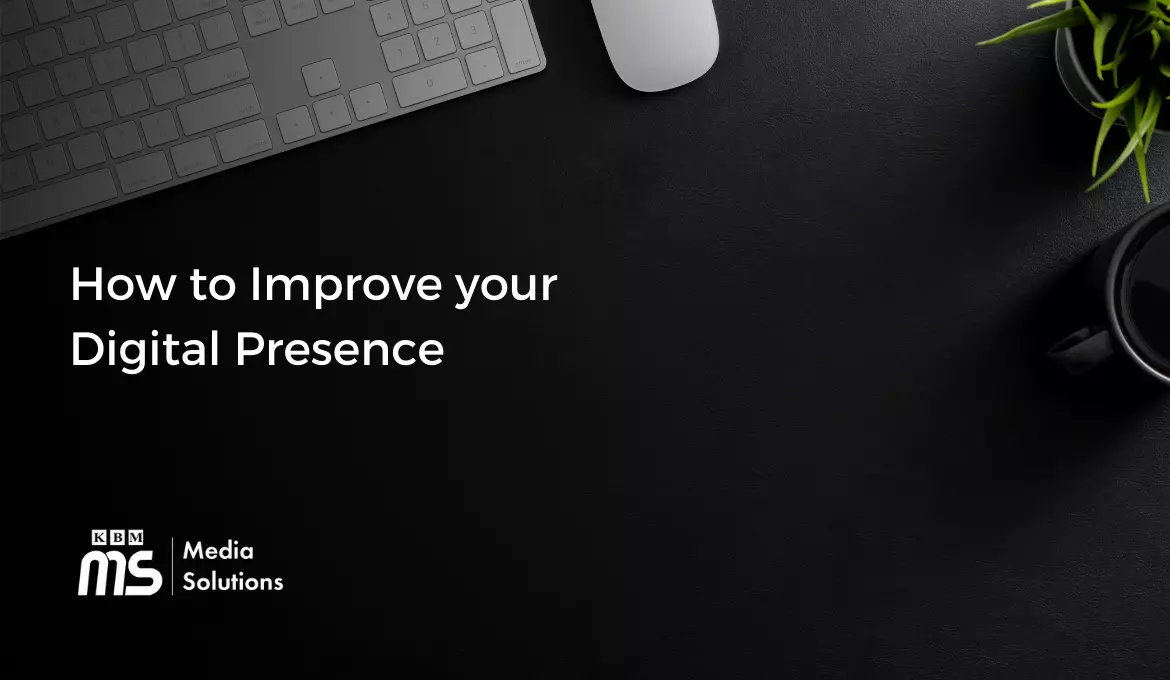 Posted on Jul 28, 2021
Building a digital presence can be a very frustrating and time-consuming endeavour. This can leave you desperate for answers. Nowadays, it is becoming more and more important to push your brand out digitally, as that is where you will find most of your consumers.
By not taking advantage of digital marketing, you will most definitely lose out on potential sales and profit and will suffer for it later. Luckily, we have included the best strategies for strengthening your digital presence so that you don't have to worry about searching for the right solutions. To understand how you can best strengthen your digital presence have a look at our Content Marketing and Conversion rates blog.
How to make Reliable Content
To make sure that your brand is seen by others, you have to make sure that the content you produce is of quality. Content marketing is a rapidly growing industry, which is projected to generate $107, 540.6 million by 2026 (Source: MarketWatch). This increase is mainly due to more consumers shifting from traditional channels to social media advertising channels.
Creating content that is interesting, engaging and relevant is key, and can be done through videos, blogs and social media posts to name a few. As well as this, content should also reflect the brand's core values, so that there is a positive representation of your brand. Visit our Social media marketing course to understand more. Another reason for publishing good quality content is that it will be indexed and ultimately ranked highly by Google, which is a very effective way of getting your brand noticed. This way of marketing allows for a sharp increase in traffic, leading to more publicity and sales.
How to Develop your Website
SEO (Search Engine Optimisation) is a crucial tool when trying to expand your brand's reach online. It accomplishes many things, such as
Increasing organic traffic to your site
Offering an impressive ROI
Improving your website's credibility and trust
Working relentlessly to promote 24/7
Reaching your entire target audience
For more information on SEO, visit our blog Demand for SEO Experts.
Not only does it increase the quantity of traffic to your website, but also the quality, meaning that there will be more interactions and sales, which will, in turn, improve your site's reputation.
Developing your website also entails creating a structured layout, drawing attention to what is necessary, and guiding users to the right areas. Accessible websites and refined user interfaces increase your brand's visibility compared to competitive sites that don't do this. For example, 46% of users will not return to a poorly performing website (Source: LoadStorm).
How to Focus on Digital PR
Digital PR (Public Relations) is a very effective online marketing strategy used by businesses to improve their digital presence. In fact, the effectiveness of digital PR is akin to SEO. It mainly involves creating content and outreaching to bloggers and journalists in order to gain publicity on relevant websites. This is different to traditional PR, in which there is more of a focus on channels such as the general press, TV and radio. Done well, digital PR will boost performance across the whole of your business's online profile with ease. Find out how to progress in digital marketing by following this link.
Outlining your goals is absolutely necessary when considering digital marketing. This will create an objective for the campaign, and these goals can be measured and met in a realistic manner (Source: Business2Community). Setting these targets also allows you to have a customer and data-driven approach, which can improve conversion rates and generate more leads and traffic.
How to refine your Social Media profiles
In late 2019, Instagram Stories had 500 million monthly active users (Source: Statista). This is a huge opportunity for businesses to spread their brand across many different regions digitally, and your social media page may be where many potential customers lie. Archiving or deleting outdated or irrelevant posts, or adding new graphics can be a part of this process. Creating an integrated social media strategy will also help you to stay organised and allow you to realise the different purposes that each social media network provides. These different networks contain untapped target audiences and will permit you to efficiently filter through each to reach your required demographic and finally drive traffic to your website.
Other ways of increasing the number of impressions you have on social media include using relevant hashtags and using them frequently. However, you need to find the right balance with this, as using too many can be a waste of time. To learn more about social media visit our course section. Although Instagram allows for 30 hashtags, research has found that the optimal number of hashtags per post is actually a little over 11 (Source: SocialMediaToday).
There are automated tools that can post for you, so that you don't have to dedicate as much time on the platform, such as Hootsuite, Sprout Social and Buffer. However, engagement with your audience should also be a priority from time to time, as this shows sincerity, and can reflect your brand values.
To conclude, there are many features of digital marketing, and all contribute to an increase in your digital presence. To learn about a specific pull marketing technique visit our Inbound Marketing blog. Generally, cultivating all of your online profiles and digital assets, as well as honing in on any digital skills, such as SEO, will greatly benefit your company, and will drastically boost conversions and sales by filtering potential consumers. If properly filtered, the customers you end up with will be loyal advocates of your brand and will multiply your profits passively.
To learn more about Digital Marketing, visit: https://www.kbmmediasolutions.com/digital-marketing-training.php