The Value of a Digital Marketing certification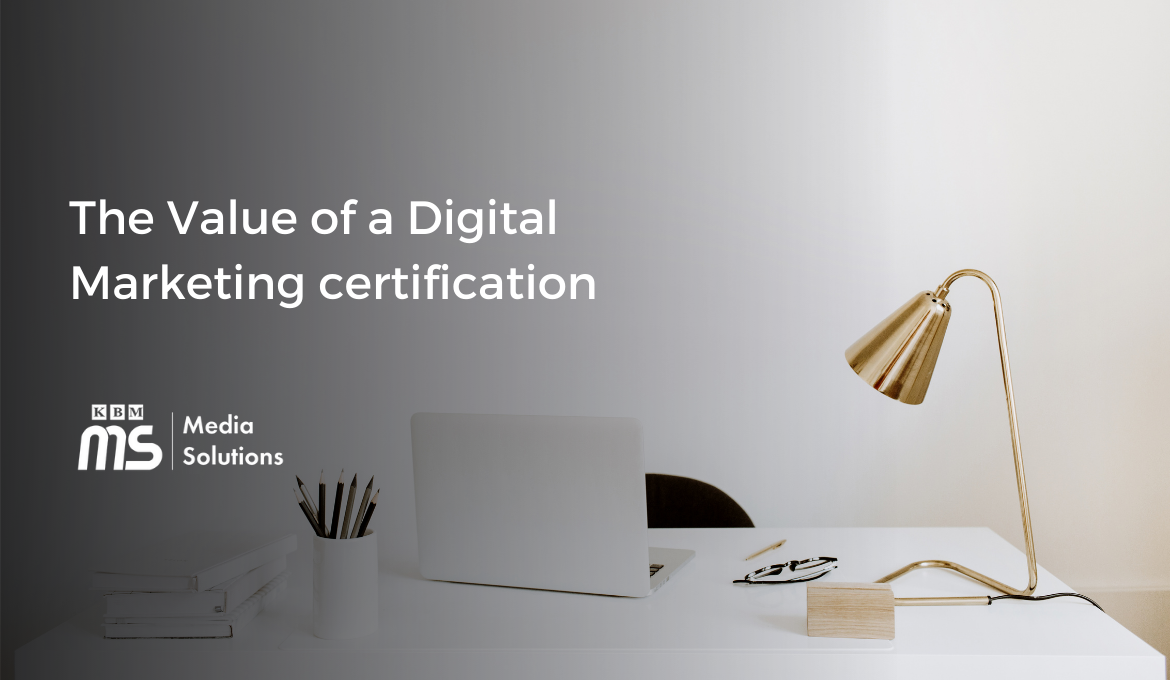 Posted on Aug 02, 2021
What is the Importance and Emergence of Digital Marketing?
We all know that the demand for digital marketing professionals has been growing rapidly since the digital age began. Learn how to progress in the field of digital marketing through this blog so you can stay up to the demand. Businesses have started to opt for digital media and E-commerce for their means of communication. This means they reach mass audiences and increases the competition for a higher market share. Therefore, the need for Digital marketers have increased across the globe. Many individuals with little or no background in this field, started to acquire the skillset to become a digital marketer. The trend shows that digital marketing would only grow and evolve as the time passes, creating more skilled marketers including professionals that have trained at a higher level. Follow our blog link on how to improve your Digital Presence to match professional marketers
Having a 4-year bachelor's degree to become a digital marketer isn't a necessity contrary to other marketing avenues. Being a successful digital marketer solely depends on your personal abilities and keeping a growth mind set. Digital marketing training provides fundamental skills which a bachelor's program simply doesn't. The traditional route to employment creates a gap between formal education and the skills required by organisations. Learn more about how you can progress in a Digital Marketing career by following the course page
Companies have started to allocate more of their resources in digital marketing and its training to receive more value and profits from their digital marketers. A 2018 Adobe and E-consultancy study in digital trends agree, that the best companies are investing heavily in digital marketing skills and trainings, and are currently reaping good benefits.
Businesses train and equip employees with specific skills to enhance and increase efficiency of their workflow. Meaning an increase in the quality of the content produced and expanding their brand awareness. Businesses are investing more and more in digital marketing and employee skill development, as they want to ensure they're not left behind during the constant evolution in web production.
Digital marketers require a number of skills to cater to a particular business. This means they analyse the needs and objectives of their business, depending if they are providing services or selling products. After this they customize their digital marketing plans and strategies to meet the goals of the business. This includes up skilling and training their employees. You can choose to learn and acquire these skills to become a certified digital marketer by undergoing training and taking courses that would equip you with knowledge and technical skills. However those skills would only be of use if you commit to constant learning and upskilling of yourself. This career path is a very dynamic and evolving, which requires the individual to be up-to date with the trends, techniques and the right attitude.
Is a Digital Marketing Certification useful?
Depending whether you're being taught by industry professionals, the instructors need to be adept at what they are teaching. Make sure that you pick and study through certified training sectors and schools so you are taught with fundamental skills that will promote your chances of working as a digital marketer in the real world. That can be of use to their industry. With respect to that, marketing institutions need to make sure they hire experts and seasoned professionals that deeply understand the subject they are teaching.
The major question is whether you'll be able to take away the right knowledge and skills from the certification. Understand that what you've worked for is applicable to real-world. Ask yourself will it teach you skills you don't know yet or upgrade the ones you already have? The ultimate goal of taking these training and courses is to translate them into a profitable career path in digital marketing.
You need to research and find accredited institutions that provide the best training and are approved by many former students. That is because not all training providers and their programs have the same worth in the job market. This is established by employers when they hire and access skills of individuals, which have taken training lessons from an institute that are really providing the best to their students. This means businesses when they talk about work placement after they have certified from the training because that is what will give you the upper hand.
What are the Benefits of becoming certified?
Certification is an approval and recognition that an individual has taken. It's a series of classes and evidence that the student has passed the exam on the course material provided. Sometimes certifications in digital marketing can be in-depth, involving many aspects and topics. For example, Social media, Content, SEO marketing etc. Certifications are all a good way to upskill an existing skill or start a new career from scratch. To learn more about the topics mentioned before click to follow their blog links.
They increase the chances for employability and salary potential because it's a recognition that this individual has a specific skillset in a certain field. This also show the student has obtained an additional skill that an employer would prefer. If employers wouldn't mind to pay more for an individual with extra skills may benefit them in the long run due to the growth they can provide their business.
Moreover, a certification sets a professional apart from the rest of the crowd since additional skills are always appreciated and needed by employers. They act as a distinction and demonstrate a drive for self-improvement and development.
To learn more about Digital Marketing, visit: https://www.kbmmediasolutions.com/digital-marketing-training.php