YouTube SEO: How to optimise your videos?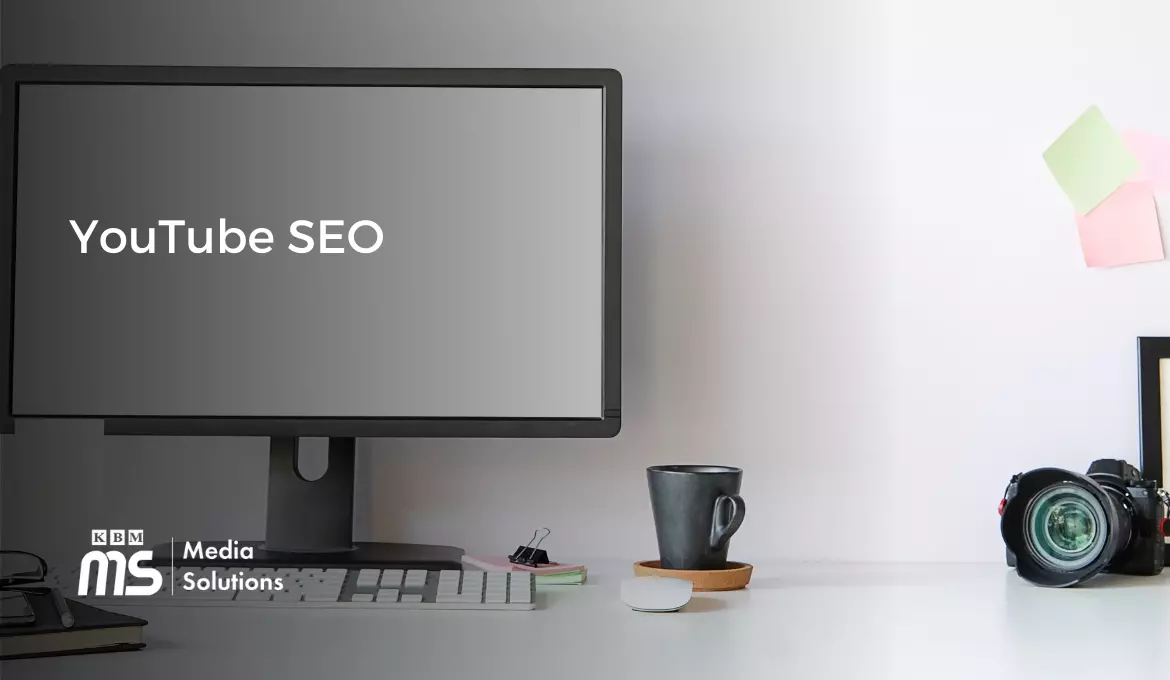 Posted on Aug 03, 2021
What is the Importance of video content and YouTube marketing?
About a decade ago, inbound marketing was a relatively new phenomenon used by marketers to attract customers by creating valuable content tailored specifically for them. They realised that just sharing lots of content without any strategy would be of no use since customers would just filter out information that they just need. Content required to be optimised and quality oriented so that it was made easily discoverable on search engines by consumers.
At the time, content just simply meant written text or just words. Today, that's no longer the case.
Digital marketing has introduced multiple content types that are used as strategy to attract and retain customers. There are comprehensive content strategies that businesses have acquired to increase exposure and boost sales. The parts of the content strategy include blogs, eBooks, as well as media like podcasts, visual assets and videos. To learn more about Content Marketing visit https://www.kbmmediasolutions.com/blog/content-marketing-and-conversion-rates.php
Analytics say out of all content types, videos are the most effective form of communication and marketing strategy. 94% of marketers who use videos plan to continue using it (biteable,2021).
This indicates the impactful nature of videos in general and not just in marketing terms. Although, social media is a hub of content where you'd see marketers using all their efforts in making appealing and stunning videos to grab their audience's attention. And they successfully do so.
Marketers utilise social media platforms to host their videos to promote their business and products. Social media has evolved heavily over the past few years to find out more visit https://www.kbmmediasolutions.com/blog/evolution-of-social-media.php. There are plenty of reasons behind this phenomenon and the most major one is consumer behavior. According to word stream, Viewers retain 95% of a message when they watch it in a video compared to 10% when reading it in text.
The significance and comparison between videos, and other forms of content is unmatched. Businesses invest heavily in quality videos advertising to maximise reach and to attract their potential customers. With that said, mighty video hosting platforms like YouTube and Facebook are the top contenders of video broadcasting and advertising. Since YouTube is solely based on video content, businesses are more likely to use this at their advantage because of it having the most viewership in online broadcasting industry. Find out how Covid-19 impacted Social Media online by following https://www.kbmmediasolutions.com/blog/social-media-marketing-during-covid-19.php.
Most marketers host their videos on free social platforms like YouTube (51%), followed by paid video hosting (17%), and self-hosting (23%). (Biteable,2021)
YouTube seem to have the highest ROI (Return on investment) for video content, followed by Facebook and Instagram. It is evident why marketers still continue to use YouTube as their major key player in video advertising. Considering that YouTube is a free social media platform to post and view videos, it is used by the masses. This makes it hard to rank and to list your videos on the YouTube search engine. To counter this problem, you need to optimise your YouTube SEO by configuring keywords used on your channel and videos. Improved YouTube SEO make your channel search friendly both in-app and on regularly used search engine. After Google, YouTube is the second largest search engine. So optimising your YouTube videos would automatically benefit your SERP rankings.
Here are 3 simple YouTube SEO optimisation tips for marketers who want to improve search rankings, increase market shares and gain more profits through compelling video marketing.
Video Titles
Choosing a title for your YouTube video is much more than coming up with something engaging, tacky and easy to get. Just like blog posts and website SEO, keywords are important and matter a lot when it comes to video titles. Learn more about SEO and the demand for them at https://www.kbmmediasolutions.com/blog/demand-for-seo-experts.php. They help with ranking on search engines on both YouTube and Google. So be sure to come up with something that is very attractive to viewers and the algorithms on YouTube that would make your title search friendly for users.
You should also know the optimum number of characters that you would use on YouTube for your videos that also stands out when someone searches on similar topics for your video. It might be challenging, but it should be sufficient enough to throw in an appealing video title so that it doesn't look too long and an eye sore for viewers. Another major factor to consider is to include important text and words are relevant to the topic and subject of the video. You need to be thorough about the words used and the length of video title which impacts you're overall ranking.
Video Descriptions
A lengthy video description can be quite helpful although it sounds counterintuitive. Users look for content in videos and if they find the relevant textual information in the descriptions of videos that is helpful for them, not to forget that descriptions also help in ranking as the core keywords are not the only ones that rank on the search engine of YouTube. Even if a user is not looking for your video but some of the keywords that you do include in your description are relatable to the search that can make your video appear on their result search page. Which is indirectly good for increasing viewership and can get you more audience.
There is a good amount of space available in the description of videos on YouTube, it can be advantageous to make best use of it. YouTube has a limit of 5000 characters on its description length. Which equates to about 500 to 700 words. That means you can write a detailed description of your video that can not only help the users but also help you rank better on YouTube. Find out more about YouTube Marketing with our training course https://www.kbmmediasolutions.com/youtube-marketing-training.php.
Video Thumbnails
People are now able to self-promote their videos with the help of YouTube's feature of customisable thumbnails. Customised and high resolution thumbnails are what people use to showcase their videos. A lot of YouTube channels seem to follow a certain pattern of thumbnail style to help their audience recognise their channels through successive uploads while some like to change it up with each thumbnail to have their own distinct style of videos.
Ideally you should have a unique sense to each thumbnail that you upload along with your videos. E.g. if you use your company's logo in one thumbnail then you should have it in all of your thumbnails, because It's important that your videos to be recognisable to anyone who follows your channel. Therefore, whenever they see your videos on the suggested section. They would be more inclined towards clicking on it.
To learn more about Digital Marketing, visit: https://www.kbmmediasolutions.com/digital-marketing-training.php